Have no fear, we are still here! Sorry for the long delayed conclusion to the June post: A Tasty City. We accomplished what we set out to do; never repeating a dinner throughout the entire month. We definitely ate more western food in June than a typical month and ate at overall nicer establishments. It was a treat. Kudos go out to you who noticed I wasn't drinking in any of the postings! We are expecting our first baby around New Years. Enjoy reading this conclusion of our month of eating our way through Thailand! (Pictures in a collage or with one of us we took ourselves, while pictures by themselves were pulled from the internet.)
14 June- Bei Otto (Greg only)
Detail: Traditional German Restaurant on Sukhumvit Soi 20 (same soi as my school). 10 minute walk from MRT/BTS trains at Asoke.
Meal: Dinner
Our Food: Maibock Beer and Spatzel
Cost: $26
Review: Bei Otto is a great place to meet friends. They offer inside and outside seating and great food. We also like their little market where you can pick up homemade pretzels or sausages to take home. Highly Recommended.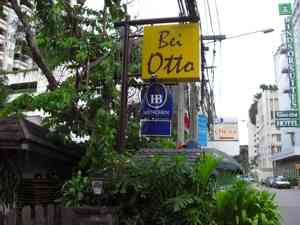 15 June- Chu Chocolate Cafe
Detail: This cafe features all day breakfast as well as lunch/dinner options. Great coffee and other drinks. Located in Interchange Building directly off of BTS skywalk at Asoke.
Meal: Dinner
Our Food: Roast Beef Panini, Ham and Cheese Panini, fresh lemonades
Cost: $24
Review: Chu is amazing! Everything we've ever had there is divine! Highly Recommended
16 June- Pala Pizza
Detail: Italian Restaurant located between MRT and BTS at Asoke. Offers a small area for sit down service, but there is often a line at their street side window where you can pick up pizza by the slice.
Meal: Dinner
Our Food: Pizza (Diavola, Brie and Speck, Margarita)
Cost: $10
Review: Our favorite pizza in Bangkok! Highly Recommended.
17 June- Vincent's
Detail: Connected to a small guest house on Soi Ngam Duphli it can be found easily from Lumpini MRT.
Meal: . Dinner
Our Food: Masaman Curry and Som Tum (with rice of course!)
Cost: $15
Review: Vincents is one of our favorite Thai restaurants. They have a lovely covered garden area as well as air conditioned inside seating. Highly recommended.
18 June- Boccone Trattoria
Detail: Restaurant located inside the Ramada Hotel, which is about a 7 minute walk down Sukhumvit Soi 12. We won a gift card to this restaurant in a charity raffle.
Meal: Dinner
Our Food: Virgin Mojito, Wine (buy 1 get 1 Happy Hour), Fish, Chicken Parmesan, Chocolate Mouse
Cost: $14 (drinks and tip, would have been much much more without the gift certificate)
Review: It was a peaceful setting just off one of Bangkok's busiest roads. However, any environment can be peaceful when you're the only customers. Many of our first choices were not available, but the food we did get was good quality. Not recommended.
20 June- Rich Man Poor Man
Detail: Restaurant and Guest House in Jomtien Beach, hole in the wall with a local feel. Decorated in sports paraphernalia from the US as well as old US license plates.
Meal: Dinner
Our Food: Pizza, Jalapeno Poppers
Cost: $21
Review: We visit Rich Man Poor Man almost every time we go to Jomtien, which is a few times a year. The owner is from New York and makes wonderful pizza. Honestly everything that comes out of the kitchen smells delicious. Our first time visiting was a few years ago when flash flooding extended our stay by 1 day. As the rain continued to fall we sought shelter inside the same way we enjoy a cozy bar during a snow storm in Wisconsin. Highly Recommended.
21 June- Just Burgers
Detail: Semi-Permanent street stall in Jomtien Beach.
Meal: Dinner
Our Food: Burgers and Fries
Cost: $16
Review: Another place that we are very loyal to in Jomtien.. Yes, we go to a beach town for burgers and pizza. This is another place we discovered a few years ago on our first trip down from Bangkok. Flame charred burgers fresh off the grill with your choice of imported cheese (including pepper-jack) makes this place great. Highly Recommended.
After a day reading at the beach a burger can hit the spot! Greg also enjoyed a drink at the Aussie bar on the way back our guest house.
22 June- Sunrise Tacos
Detail: Mexican food chain in Thailand and Cambodia. Easily accessible from the Saladaeng BTS Station/Silom MRT, we visited the location at the corner of Silom Soi 4.
Meal: Dinner
Our Food: Tortilla Soup, Taco Salad in a tortilla bowl, Southwestern Taco Salad, water
Cost: $22
Review: We thought the salads were pretty good and with fresh ingredients. We liked the free salsa bar to doctor up our salads to our liking. Recommended.
23 June- Snapper
Detail: A Kiwi owned upscale restaurant known for Fish & Chips. Located just inside Sukhumvit Soi 11 a short walk from Nana BTS.
Meal: Dinner
Our Food: Fish Fingers, Fish and Chips, IPA beer
Cost: $40
Review: Drinking good beer at a restaurant really adds up fast! However, Snapper is known for it's Fish & Chips for a good reason. Recommended.
25 June- Kenny's
Detail: Thai Bar serving mostly Thai food. Located just behind us on Soi Sribunphen.
Meal: Dinner
Our Food: Chicken Green Curry, Sun-dried Fried Pork, Local beer and Sprite.
Cost: $13
Review: We love Kenny's and it's one of our go-to Thai places to take visitors. Good service, outside (but covered) setting is perfect for a week night meal or weekend night out. Highly Recommended.
26 June- Pizza Company
Detail: Just like Pizza Hut, a pizza restaurant that offers delivery to your home on a motor bike. What's not to like?
Meal: Dinner
Our Food: Hawaiian Pizza (served of course with your side of red pepper flakes, oregano, and of course a Thai favorite: ketchup packets.)
Cost: $12
Review: Pizza Company is our go-to delivery pizza place. We especially like it when they run their buy 1 get 1 deals. Delivered to our door in less than 30 minutes, we can't complain!
We weren't using the English version of the site, so this Google translate's take on Pizza is in the Oven.
27 June- Trajai
Detail: Thai style western steakhouse located on Soi Sribunphen (just opposite Kenny's). 15 minute walk from Lumpini MRT or a short motor bike ride.
Meal: Dinner
Our Food: Crispy Scalloped Salad, Ham Steak with Baked Potato, Beer Lao Dark, Mango Smoothie
Cost: $16
Review: This is one of our neighborhood favorites for when we want western food. Great service includes peanuts when you sit down, hot bread and butter, and a consistently great meal. Covered outside seating and indoor air-con section make it perfect for any type of weather. Highly Recommended.
28 June- AmCham Picnic
Detail: Picnic/Fair hosted by The American Chamber of Commerce Bangkok at KIS International School. There was a convenient free shuttle from the Huai Kwang MRT station. We paid an entrance fee and then it was the one of those buy tickets, use tickets to get food and drinks. Very American in organization!
Meal: Dinner
Our Food: Hot dogs, Cheesy Fries, Beer, Ice Cream cones (free from DQ!)
Cost: $30 (food) $15 (Tickets for entrance)
Review: As with many events like this, it was the friends we were with and the live music that made it fun. A bit overpriced, some really good food, some not, and beer on tap made it feel just like home. Recommended.
Gotta love the 4th of July Picnic having wrist bands made in China. Our friend Jamethon is showing us the power of his beard.
29 June- O'Brien's Pub (previously called O'Reilly's)
Detail: Located just off the Saladaeng BTS/Silom MRT spot, this is what you think of when you think of a pub: Dark, yet cozy. Soccer on the TV.
Meal: Dinner
Our Food: Beef and Guinness Pie, Fish Sticks, Beer and Water
Cost: $32
Review: O'Brian's is one of our go-to pubs in the Silom area. We took my dad here a few years ago for St. Patrick's Day. Good food, a good place to watch sports, and some import beers on tap. Recommended.
30 June- Le Petit Zinc
Detail: French Crepe restaurant located on Yenakart Road about a 15 minute walk from our condo.
Meal: Dinner
Our Food: Spinach/feta/tomato crepe, Tuna Crepe, Red Wine and Mint Soda
Cost: $30
Review: This cozy little restaurant offers a wide variety of food featuring sweet and savory crepes. This was our first visit and it won't be our last. Highly Recommended.
3 July- Just One
Detail: Thai Seafood restaurant located on the corner of Sathorn Soi 1 and Soi Sribunphen. 15 minute walk from Lumpini MRT.
Meal: Dinner
Our Food: Steamed Sea Bass with Lemon (limes are called lemons here) and Garlic, Shrimp rolls, coconut Smoothie, Beer
Cost: $18
Review: This place offers a great outdoor atmosphere and can be crowded with tour groups. There is a small indoor setting, but we have never sat there. Highly Recommended.
6 July- Beirut
Detail: Lebanese Restaurant with a few locations throughout the city. Our usual location is on Silom Road just off of the Saladaeng BTS/Silom MRT walkway, but this night we opted for delivery.
Meal: Dinner
Our Food: Chicken Shawarma wraps and hummus fata
Cost: $17
Review: After visiting Lebanon this past summer, we can say the food here tastes authentic. The only Thai influence is a spicy Thai chili mix that is served with the traditional yogurt and garlic mouse that comes with every meal. Between visiting in person and having it delivered, this may be are most frequented restaurant in the city. Never had a bad meal, Highly Recommended.