Really Vancouver, you can do better than this. The coup was in THAILAND.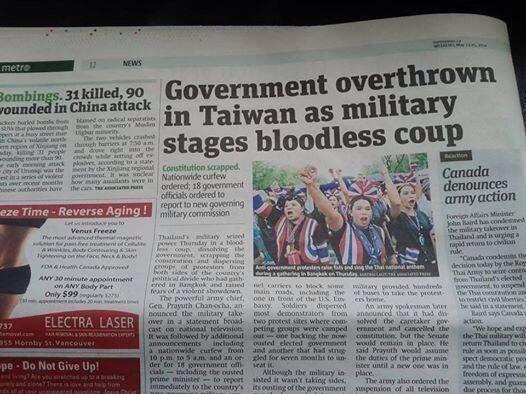 I can't be too critical of this Canadian journalist though, we've had American friends and even relatives make the same mistake about where we live.
The Thai military has raided numerous strongholds of protest groups over the last two days. Large arms caches have been found on both sides of the political spectrum showing just how precarious the "peaceful" political protests had become.
Today feels like another normal day in Bangkok. Mary is muscling through her final weekend of all day Saturday and Sunday grad school classes. After this weekend only a final project will stand between her and a Masters Degree! Work has been extremely busy for me lately and I'm spending another weekend catching up on work from home. We'll meet up for Mexican food and margaritas this evening and make sure to be home before the 10 PM military curfew kicks in.