With our recent trip to Australia behind us we are back to our normal busy lives in Bangkok. This continues to include closely monitoring the political situation here as things are still quite unstable.
This past week Yingluck Shinawatra was removed from her position as Prime Minister by the courts for abuse of power. This ruling related to the transfer of the national security chief shortly after Yingluck came to power in 2011, clearing the way for a family member to move into the position. Later in the week she was also found guilty of corruption related to a government rice purchase program.
This has only inflamed tension between pro and anti government demonstrators with some people claiming the courts decisions were politically motivated. Yingluck's political party immediately appointed a new interim prime minister (another close insider to the Shinawatra family), but anti government protesters are claiming they will appoint their own government this coming week. There have been numerous isolated instances of violence, but no all out clashes thus far. Road closures due to protests continue to cause headaches. The pictures below show two different instances of tourists that were forced out of their taxis by protesters blocking highways (pictures from Twitter). That's a long walk to the airport!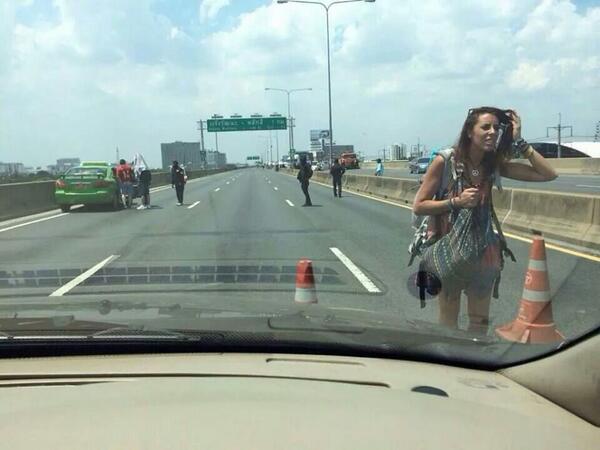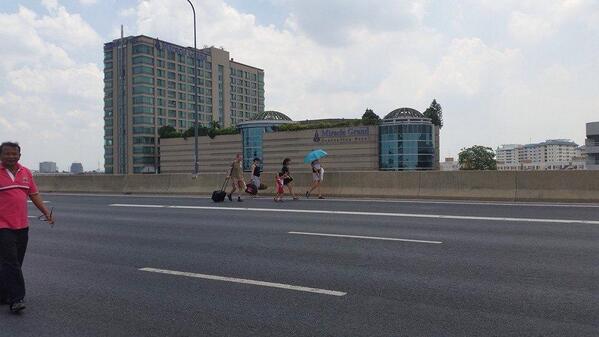 We have also regularly seen protesters passing by our condo, often temporarily closing down the road. Fortunately this doesn't usually last for long as none of the protest destinations have been right by our condo.
While we do spend a fair bit of time following what's going on politically, for the most part our lives go on as normal. Last weekend we managed to slip away for three days and two nights in Phuket. We had a wonderful and relaxing time at the beach!